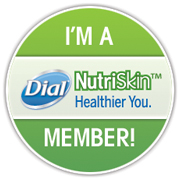 Back mid-November, I was selected as one of only 100 people from across the country to join the elite Dial
Healthier You Member Program. This program is about keeping yourself healthy, from inside out and they have provided me with a wealth of information. I wasn't very clear on what I was supposed to do outside of implement these changes in my life, so I emailed them. I didn't get a response back till mid-December and discovered they wanted me to share information with my readers. They have provided me with some great information and I really do want to share it with you. Although it was designed to be a weekly post, I will be posting several posts this week in an attempt to "catch up." This is a perfect time, anyway, with so many people wanting to implement change in their lives. So, watch this week for some great tips to get you in healthier skin!
Disclosure: I received a bottle of Dial NutriSkin Body Wash and by posting, will be entered to win a trip to Canyon Ranch
.