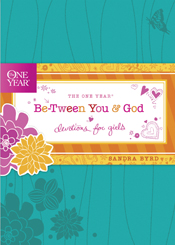 It saddens me to see how much pressure there is on young girls to act a certain way, dress a certain way and be a certain way. Our tweens face challenging issues daily. Friends, peer pressure, media influences can leave these young girls confused uncertain. Sometimes they feel comfortable talking to their parents and sometimes they don't. And even when they do talk to parents, parents don't always know how to answer their questions. And even if they do, a reinforcement might be needed. And then, unfortunately, sometimes, these young girls may just lack spiritual guidance.
The One Year Be-Tween You & God, Devotions for Girls
by Sandra Byrd is a lovely book that provides spiritual guidance and reassurance to tween girls. The book poses real questions that young girls might have, such as:
Dear God, I have a friend who has everything. Shes pretty, she's rich and she's nice. I admit that I am jealous. What can I do?
and
Dear God, why do people think it's okay to say Oh My God?
to
Dear god, why won't my parents allow me to do what other girls are allowed to do, even if the other girls and their families are Christians?
Each daily reading presents a new question, a scripture related to the question and a "How about you" section that helps readers explore how the question, or a similar question, might be evident in their life.
This is a beautiful book, measuring about 6"x 8", with a soft, flexible, durable cover, easy for young hands to hold. The turquoise cover is embossed with flowers and butterflies. The pages are printed on a medium-weight durable paper. The questions really are things that young girls might wonder about in regards to God, life and everything in between. The answers to the questions give solid Christian advice and explain things at a level that young girls can understand. This is a beautiful book for any young girl in the 9-12 year old age range whether be your daughter, niece or any other young lady you care about.
My eight-year old daughter reviewed the book as well. This is what she has to say about it:
I like Be-Tween You and God Devotions for Girls. It is a Christian book and I like that. I like it because it has questions that girls my age would ask and answers. It has questions about things girls might worry about. The answers are really good because they make it fun. They explain the question and they are very good answers because the answers relate to everyday things, like being bitten by a mosquito.I like the cover because it feels like leather and I like the turquoise color, too. It also has pretty flowers and butterflies on it.
Tyndale publishers is offering one of my lucky readers a copy of this book. Simply enter the easy Rafflecopter giveaway below.
a Rafflecopter giveaway
Disclosure: I was provided a copy of this book to facilitate this review. I was not compensated for this post. As always, this review contains my honest thoughts and opinions.