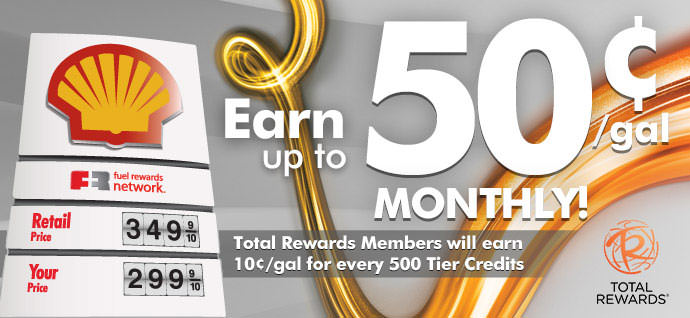 Disclosure: I received Shell gas gift cards in exchange for my honest opinion of the Fuel Rewards Network.
Summer is here and we are on the road a good bit. Towing a camper really gobbles up gas, so we are always on the lookout for ways to save money on gas. I learned of a new program called Fuel Rewards Network Program. I was a bit reluctant at first since I had never heard of it, but it is a legitimate program that can help save you money on gas.
The Fuel Rewards Network Program
is a free loyalty program. You can sign up online or at participating Shell stations and will be issued a loyalty card (yep, another one). Once you have it, you simply insert it at the pump automatically for 3¢ off per gallon. But that's not all. You can earn additional savings by linking credit cards and grocery reward cards to your account and get savings every time you eat out or buy groceries. You can earn points when shopping at the Fuel Rewards Online Mall. The more points you get, the greater the discount. Rather than me try to explain it all to you, I think this video does a great job.
I am pretty excited about this. Even if I only save 3¢ off per gallon, that is still a lot of savings for me. But looking through this program, it should be easy for me to have much greater savings. I just linked up my credit card and will earn $10 off a gallon for every $50 I spend eating out. Savings by doing what I do anyway--LOVE IT!
And now, for a limited time, new members of the Fuels Rewards Network program can get a 25¢ off per gallon of gas sign-up bonus when they join the program. To qualify, you must purchase at least 8 gallons of fuel on your first fill-up using your Fuel Rewards Network Card, while enjoying saving 3¢ off per gallon. Then, the 25¢/gal will be credited to your account for your next fill up--but hurry, this doesn't last forever!
You can also choose to rack up points more quickly by applying for and using the Fuel Rewards Network Mastercard. There are just so many ways to save. I encourage you to visit their site and read more about additional ways to save.
Now here is the great part, I have a $25 Shell Gas Gift Card to giveaway to one of my lucky readers. Just enter below!