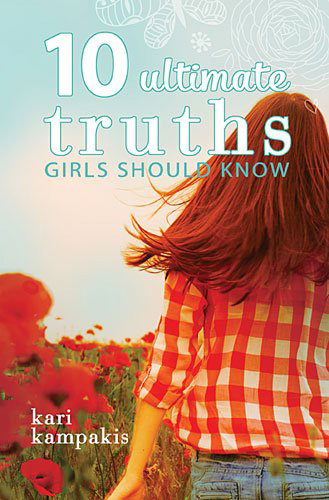 Disclosure: I received a copy of this book in order to facilitate this review. All opinions are mine.
Having read Kari Kampakis's
10 Ultimate Truths Girls Should Knows
on her blog, I knew I wanted to read more. As a mother of two girls, when I saw that her thoughts were expanded into a book for teens, well, I couldn't wait to get my hands on it.
In the very first chapter of this book, the author makes two profound statements: "One is how f
un
it is to be a girl. One is how
hard
it is to be a girl." And I couldn't agree more. There are so many challenges girls face today. Mean girls, social media, pressure to look and act a certain way, and above all else,
drama!
The author goes on to remind girls that in an inconsistent world, there are some consistent truths.
The God who made you loves you passionately. He created you in His image to serve your generation like no one in the universe has ever served before. His plans for your future would astonish you. You can anticipate them with great expectation.
Wow--powerful words that if held onto, can help get one through anything...even all the drama!
The author focuses on God's purpose for you. This is one message that I strive to drive home to people, both young and old. God does have a purpose for you. If our young people can truly believe this, life gets much easier. This plays into so much--popularity, choices, confidence, patience, relationship with others and more. Focusing on God's plan takes away from self-worship and turns the focus to inner-beauty. And many of these topics are such topics in this book.
Girls will learn truths about how much God loves them and how life is. They will learn to focus on what is really important, not popularity, boys or how they look. Girls will learn about making important decisions in their day-to-day life.
At the end of the chapter, there are a few thought-provoking questions with space to write an answer. The page layout of the book is nice, too, with lots of text boxes with a calming blue floral background.
As my tween approaches her teen years, this is a book that I know we will commonly refer back to. In fact, she has started reading it now. However, if you haven't had discussions about boys and sex with your daughter yet, I would recommend you hold off till either you have, or you are ready to begin these discussions with your daughter. There is no talk about the physicality of sex, but of God's plan for sex in marriage and what can happen outside of marriage, namely the emotional consequences.
The author, Kari Kampakis is a newspaper columnist and blogger. She has been featured on HuffPost Parents. More can be found on her website at www.karikampakis.com